News Archive- Page 1
The (Very) Old Songs
Submitted by John Eardley on Thu, 19/11/2015 - 11:28
Don Melbourne has recently retired from West Midlands BHC where he'd been an enthusiastic member, Treasurer and Chairman. Still a regular at our gigs, his parting gift to us was 'The (Very) Old Songs' an essay he describes as a collage of recollections and ramblings from his time on the Anvil Chorus risers. Enjoy the following excerpts which I expect will ring true with many Barbershoppers...
'... `I met the King of Siam the other day.` `Oh Yeah.?` `Yes I did. At least he said he was the King of Siam.` ` Hmm...` `Well, what he actually said was "If you`re a singer I`m the King of Siam.`...' '...Our overall sound, we understand, is influenced by how we are stacked on the risers. I feel as if I`ve been stacked more times than a Tesco shelf - every row, every position, every outpost. I'm up there using crampons to cling to the extreme edge, roped to the back rail. I don`t know whether to sing or yodel. And how come, when I've explored every square inch of the risers over the years, George hasn`t moved more than a couple of feet ? His situation seems to express one of the eternal Mysteries of Life - like Stonehenge - why is he there ? ...'
'...For one who struggles with the moves of YMCA on the dance floor, I reckon I did pretty well on the front row for a few years with the complicated choreo we did in those days - police helmets, tankards, a toga, and spring loaded flowers stuck up our sleeves, and then all of us `flying` off stage at the end of `Up In The Air Boys`....'
'...Our next jackets were bright pink, or as we called it to protect our sensitive male egos, `Cerese`. I can just imagine Lacy - the man who sometimes looks as though he could pick a fight in an empty room - saying to the miscreants in his custody, in a girly voice: `And I wear a shocking pink jacket with plum silk lapels... which one of you would like to sing `Sweet & Lovely` with me ?`...'
'... Jock`s idea of mix and match Quartet sessions was terrific. I`m sure I sounded and looked like Donald Duck, voice fuelled by Helium, caught in headlights. Collectively at the beginning with various line-ups we probably sounded like horrendous versions of the Von Trapp family, with Ian as Julie Andrews. They do say that the fear of the moment is often worse than the moment itself but I can tell you that my fear of singing `Let Me Call You bloody Sweetheart` in quartet was totally justified. I tried my very best, but to be effective I had to sing much louder than was comfortable. I don`t do loud. Unfortunately my vocal apparatus won`t let me sing beautiful and loud. Thus a Quartet Gold Medal will elude me just because I can`t sing loud enough. There may possibly be other reasons...'
Don has recently self-published 'Ain't Life Great', his first book of short stories. He started writing in 1996 when he retired from Social Work and hasn't looked back since winning £25.00 in a local paper's writing competition in 2010 with the story of Tom, which is in the book. Much of his work is inspired by real life observations, experiences and events and delivers an intriguing mix of humour, fantasy, bloody murder, betrayal, ghostly goings on , insanity, mystery, the downright bizarre and definitely the unexpected, so says his sales blurb anyway, but no Barbershop as yet.
Determined to put Walsall on the literary map and unsure whether he has a novel in him, Don and partner live overlooking a Black Country canal and enjoy exploring those very waterways, discovering Windmills and participating in that hectic adventure known as life.
'Ain't Life Great' is available in printed or download format from www.lulu.com where it's expected to rocket up their best seller list from today's 2419th spot, once the Christmas rush kicks in.
Until then, here's another reminiscence from Don's Anvil days... '...What is it about getting blokes to smile while they sing ? There's more chance of Welshmen being jolly at an Eisteddfod. But Ballads we can do. We really get into the spirit of them - the more morbid and wrist slashing the better. Give us a bit of gloom and doom and we're in there, making a beautiful sound, full of tender emotion. Except for Richard farting in the quiet bits, having had a curry for his dinner. Being over the other side of the Chorus I could hear rather than smell it but reliable sources told me it was invariably Korma. Now that brought smiles to our faces...'
Back to top of page
---
Lest We Forget
Submitted by Colin Roper on Fri, 04/09/2015 - 16:36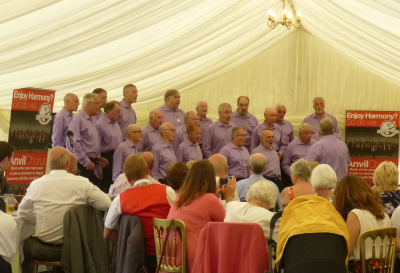 Retired Cricket Umpire, Raconteur and famous Barnsleyan Dickie Bird OBE was the main speaker at the COFEPOW (Children Of Far East Prisoners Of War) 70th Anniversary of VJ Day Commemorative Dinner at the National Memorial Arboretum. Anvil Chorus were Dickie's warm-up act and brought tears to his eyes with our heartfelt renditions of 'Abide With Me' and 'I'll Be Seeing You'.
Neither the marquee environment nor its loud air conditioning got the better of us although low fabric drapes almost prevented sight of David Williams' (back row 2nd left) debut on the risers singing the six songs he learned in four weeks.
The members of COFEPOW are the babies and siblings of many thousands of men who died during WW2 on the Sandakan Death Marches, in copper mines in Formosa and steel factories in Japan, building the Thai/Burma and Sumatra railways, roads in Burma and air strips including Java, New Guinea and the Solomons. Many more died on unmarked 'Hell ships', battened down in the holds or torpedoed by Allied submarines. And the fall of Hong Kong to the Japanese took its toll of both British Servicemen and thousands of Civilians who were interned.
Those who survived to return often continued suffering for years after and many of the charity's members bear testament to their relative's constant nightmares and recurring illnesses.
COFEPOW has established the Far East Prisoners of War Memorial at the NMA which carries the name and rank of every prisoner taken during the South East Asia conflict, an unprecedented period in British history.
Lest we forget.
Back to top of page
---
A moment's reflection at Harmony College 2015
Submitted by Colin Roper on Fri, 04/09/2015 - 10:54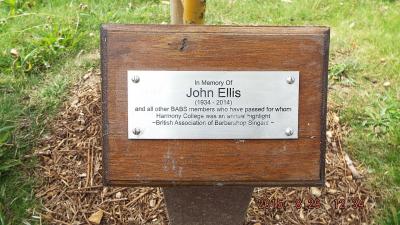 Anvil Chorus members and friends, who were among the more than 400 attendees at this year's bash at Nottingham University's Jubilee Campus, gathered to pay their respects to one of their own, John Ellis, whose memorial tree was planted last year and is thriving in its peaceful lake side location.
The plaque says it all.
Pictures by Phil Mobsby
Back to top of page
---
MP says 'on yer bike' to barbershop
Submitted by Colin Roper on Fri, 04/09/2015 - 10:22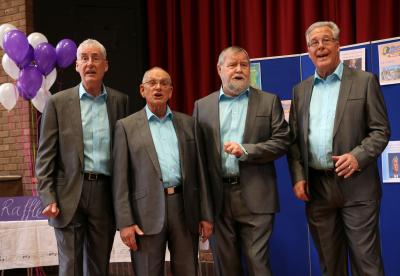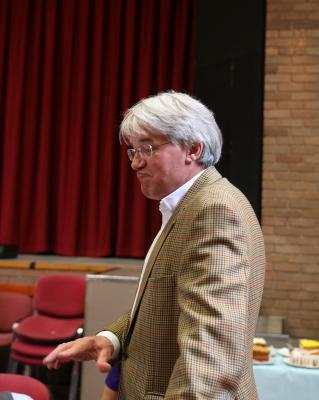 Classmates is a popular quartet of Anvil Chorus stalwarts who are often seen and heard supporting local charities at fund-raising events such as this one for the Epilepsy Society in Sutton Coldfield.
In the run up to the recent election, local MP Andrew Mitchell was in attendance and donated a whole box of House of Commons chocolates to the raffle.
Perhaps understandly though, having recalled recent past events at the gates of that establishment, Mr Mitchell appears not to be too impressed by another four guys 'in uniform' singing the same tune, albeit with indisputable accuracy this time.
Back to top of page
---
One for the Convention 2015 scrapbook
Submitted by Colin Roper on Fri, 04/09/2015 - 10:14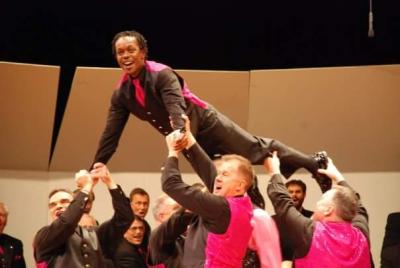 Remember the action picture of The Vocal Majority that was all over our Llandudno Convention advertising? Well one of these two guys is VM's Charles Kennedy, 'The Leaper', 8 years a First Bass who has been airborne at three Internationals, his first in Anaheim 2009 (Pink vests), Philadelphia 2010 (Gold vests) and Vegas 2014.
Let Charles tell the story of The Leap in Vegas, "Actually this is a full flip and is receiving more attention than I could have ever imagined. A photographer in the audience caught me in the air, right at the end of it. What a shot! The stunt itself wasn't too difficult but the accompanying choreography and stage dimensions made it really challenging. Just hours before performance, I learned I only had a 6 feet wide runway across the front of the stage to work in, which became 4 feet due to the position of the quartet microphone. I knew I'd have to make some quick adjustments on stage with no rehearsal time. I had to remember.....Not to kick the microphone, Not to collide with the other stuntman coming from the opposite side, Not to kick the Soldier coming from within the Chorus, NOT TO KICK GREG CLANCY! and of course Not to fall off the stage onto the Judges table. No pressure, right? Several prayers later we were on stage. Everything went smoothly and I was incredibly relieved, not only for being Blessed to accomplish my 'Not' list, but to also bring home my First Gold Medal. What a Thrill!"
Meanwhile, the other guy in the picture is Mike Hendrikson, Anvil Chorus Tenor who was introduced to Charles in the bar as 'someone in my chorus who has been signing autographs and impersonating you all weekend'. Charles did apparently offer Mike the role of his stunt double but Mike's eye is fixed on stardom in his own right now as he hasn't stopped saying 'I can beat that' and suggesting that Anvil's moves for next year should incorporate his skills as both Chemistry teacher and Apprentice Frogman into something incediary and amphibious, albeit with significantly less acrobatic flair but certainly providing more of a shock factor. So remember the face, Mike is on the left.'
The last word from Charles "Thanks to you guys and the Vocal Majority, I had an unforgettable time in Wales, sang tags until I had no voice left and made new friends. What a great group of guys 'yall' are. I hope we are able to visit you again soon!"
Back to top of page
---
Anvil's latest medal winner
Submitted by Colin Roper on Fri, 04/09/2015 - 10:02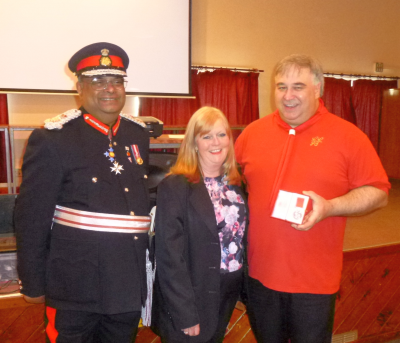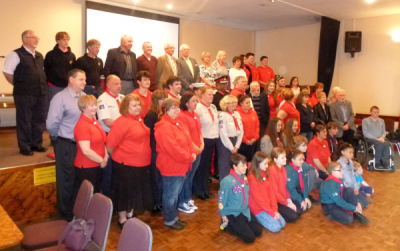 Of the three Colins in Anvil Chorus only one rides an enormous Kawasaki, plays guitar in a rock band and was awarded a British Empire Medal in this years Honours List.
'Big Col' Bowen was nominated for a gong by his employer in recognition of 20+ years voluntary work in youth development in Birmingham, particularly in Scouting and specifically for organising the sold-out Scout and Guide Gang Shows that have become such an eagerly anticipated event in the fund-raing programme for the Lord Mayor's Charities every year.
Similar to our BABS long-service pins you can, apparently, choose to receive your BEM through the post, from a Queen's representative at any location or from a member of the Royal dynasty at the Palace.
Colin was determined however to share this award with the Scouts, Guides, leaders and parents who work so hard to stage the Gang Shows, so he invited everybody to a celebration party at a local Church Hall where, in May, he received his BEM from Peter Sabapathy CBE, the Queen's representative and Lord Lieutenant of West Midlands County.
Not one to take his foot off the gas though Big Col's cunning plan was obviously to feed, water and generally soften up those in attendance, then hit them with a presentation of the plan for next year's Gang Show which is best described as challenging. All will be revealed at Birmingham Town Hall next Spring.
Colin didn't disappoint the Royal personage though as they eventually met at last month's Palace Garden party. Unfortunately there's nothing to see as you're not allowed to take selfies with Her Maj.
Back to top of page
---
Pre-Convention Chorus profile on BABS Facebook page
Submitted by Colin Roper on Fri, 19/06/2015 - 16:58
http://anvilchorus.uk/old-anvil/sites/default/files/news/Anvil%20Convention%20Facebook%20article%20210515%20red%20190615.png
Back to top of page
---
Uncle John's 30 years in Anvil Chorus
Submitted by John Eardley on Sat, 21/03/2015 - 07:18
The usual story - back in 1985 John Pearson was encouraged to give Barbershop a try by friends who were already Anvil Chorus members.
Two years later he brought along a nephew whose Mom would arrive at 10pm to take the lad home from rehearsals. One night she had in tow John's younger nephew Duncan.
Rod Butcher was Music Director at the time.
Fast forward to March 2015. Rod has become a doyen of British barbershop and is back in front of Anvil, Duncan recklessly continues to raise the bar, and his Uncle John receives a BABS lapel pin to mark 30 years of unselfishly contributing all the spare notes to our ringing of those fabulous chords.
ringing of those fabulous chords. Anvil members of all ages gathered to say cheers John, and thanks to Rod for getting them both hooked and to Duncan for making John's day.
Back to top of page
---
Classmates 'cheque out' Waitrose Christmas Taster Event
Submitted by Colin Roper on Fri, 12/12/2014 - 17:22
WMBHC is proud to be one of the local charities to benefit from Waitrose Four Oak's Community Matters programme this year. Three organisations are nominated to share £1000 each month and during November shoppers collected Green Tokens on purchases and popped them into three collection boxes to decide the split.
Waitrose normally just post the cheques but were persuaded this time to offer a taste of Barbershop harmonies among the various Christmas delights being sampled by a largely invited clientele on Wednesday evening, 10th December.
Classmates quartet, with Rod standing in for Tenor Ed, did another fine job representing the club and our craft, and certainly moved around the store, performing not only at the Check-outs and in front of the new Delicatessen but also finding themselves singing in the Wines and Spirits section-and not being asked to leave.
WMBHC Chairman Alan is pictured being presented with the cheque by store Manager Ian, with Classmates still smiling in the back row after a good night's work. Alan was relieved to discover that the cheque being held up by the two lovely Waitrose ladies was only for show and he wouldn't have to fold to it into his wallet.
Back to top of page
---
Every supermarket sells Hair Gel and Razors, but only Waitrose Mere Green offers the full Barbershop experiencet
Submitted by Colin Roper on Thu, 04/12/2014 - 21:09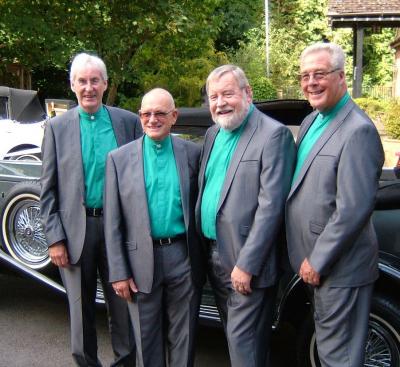 There's a treat in store at Waitrose Mere Green from 7pm next Wednesday night, 10th December. Classmates barbershop quartet will soothe the fevered brows of stressed shoppers with harmonious melodies (try stopping them) in appreciation of West Midlands
Barbershop Harmony Club being selected as one of three local charities to benefit from the store's November Green Token Collection. Come along and check out our four for the price of one offer and do be sure to tap the back pockets of the quartet, sure you'll be in the wrong supermarket but they'll love it.
Back to top of page
---